End of Year Donation
Generous financial support from individuals like you helps to provide the vital funds needed to operate the Millicent Rogers Museum.

As a charitable, educational organization, donations enable the Museum to provide a variety of services and programs to the Taos community and our many visitors.

Your special year-end gift will help us partner with communities of the Southwest to share their stories, arts, and cultures. 

Thank you for your support!
Make your end of year donation today
New Years Eve Dinner Party!
Happy 2024!!
Say HELLO to the New Year with your friends while enjoying a great dinner and some fun drawings that raise funds for the final year end giving. Taos Black Tie Fun at the Taos Country Club.
Don't be left out in the cold, seating is limited!! Let's have some fun together.
Get your tickets here
ARTISTIC MENTORSHIP GROUNDS MILLICENT ROGERS MUSEUM EXHIBITION
Supported by a National Endowment for the Arts Challenge grant, New Mexico Artists Around the Kitchen Table (October 14, 2023-January 24, 2024) offers the community an exhibition and program series featuring more than 20 New Mexico artists that grounds artistic mentorship in families and social circles as a sustainable cycle of legacy and stability. Offering a firm foothold in the creative economy, artistic practices are passed on at kitchen tables–whether in a kitchen, in a classroom, in a yard, or at a church. The kitchen table takes form anywhere...
Read More Here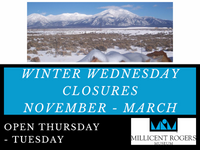 Please note that the Museum is closed on Wednesdays November - March.

The Museum will close early, at 2pm on Christmas Eve and on New Year's Eve, and is closed on Christmas.
Visit our calendar often for upcoming events here at the Museum. We look forward to seeing you soon and often.
Calendar
Millicent Unplugged
A virtual panel discussion series will feature panel discussions on topics of cultural and art interest. Modeled after the "salons" of the past, artists and community members will join in lively, informed, honest, and homespun conversations. Join us the 1st Thursday of the month.
Series Information
Drop in and visit us!
We are open from 10AM -5PM daily unless it is a holiday that we observe. Please visit this page for information on holidays and admission fees.
We are located at 1504 Millicent Rogers Road
575-758-2462
More Visitor Information HERE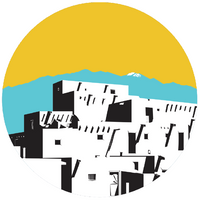 Tuah-Tah / Taos Pueblo: Home
Honoring the Native American Heritage within the Taos Pueblo Gallery. It is a semi-permanent exhibition. It highlights the cultural lifeways and artistic achievements of the people of Taos Pueblo.
Exhibition Information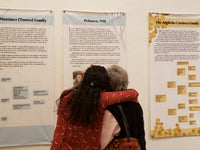 Past Events
We want to extend the experiences of our past exhibitions, events and moments. Please visit this link as we will continue to add to digital archives. With gratitude towards our sponsors, contributors, friends, and everyone involved, Team Millicent would like to Thank You for the memories as we continue our tradition of "sharing and celebrating the arts and cultures of the Southwest".
Link Here
Remember and Honor
Blue Star Museums is a collaboration among the National Endowment for the Arts, Blue Star Families, the Department of Defense, and museums across America to offer free admission to the nation's active duty military personnel including National Guard and Reserve and their families each summer. The program begins on Armed Forces Day in mid-May and ends on Labor Day at the beginning of September.
Visit Us
Sponsors
The Pledge of Excellence
The Millicent Rogers Museum is proud to continue with the standards of excellence that identifies us as an Accredited Museum.
The Pledge of Excellence is: "My museum pledges that, in fulfillment of its educational mission, it will strive to operate according to national standards and best practices to the best of its abilities and in accordance with its resources."